Another Free Las Vegas Attraction Removed
Posted on: November 17, 2023, 01:57h. 
Last updated on: November 17, 2023, 02:15h.
Hot on the heels of news that the Mirage Volcano may have already closed for good, comes word that another major free Las Vegas attraction has also closed.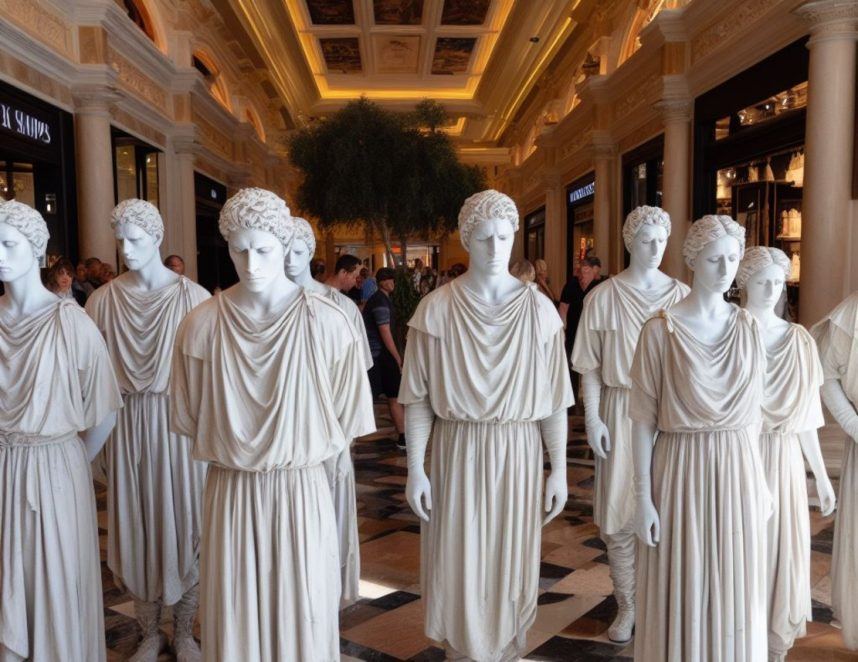 The Grand Canal Shoppes at the Venetian have eliminated the jobs of all living statues, dancers, and musical performers. The indoor shopping mall's "Streetmosphere" performers served as a popular tourist attraction in the shopping mall's St. Mark's Square since a few weeks after the Venetian opened in 1999.
The news was broken via a tweet from @VegasStarFish, then covered in his own inimitable way by Casino.org's own Vital Vegas blogger Scott Roeben.
The Grand Canal Shoppes, which features about 200 stores, is operated by Brookfield Properties, which confirmed the decision to Roeben via this statement:
We are grateful for the many years of fantastic Streetmosphere performances. The program and performers have been an important part of Grand Canal Shoppes' history; however, we are excited to share some of the new and innovative experiences we have planned for our guests."
About 15 performers find themselves out of work just in time for the holidays.
Idol Away
According to Roeben, the free "Streetmosphere" entertainment didn't drive enough revenue to justify its cost. To this end, several years ago, the living statues were rebranded as "couture living statues" and decked out in clothes apparently available for purchase at the nearby Ann Taylor store.
The singing gondoliers still have their jobs, however, though only the ones who row through the Grand Canal Shoppes.
A separate group of gondoliers, who work in the faux canal outside the Venetian, are temporarily out of work since the canal was drained to create space for an outdoor viewing and dining platform for the F1 Las Vegas Grand Prix.