Virginia's Bristol Casino Shutters Due to Equipment Failure
Posted on: November 17, 2023, 10:44h. 
Last updated on: November 17, 2023, 10:44h.
The Bristol Casino temporarily shut down Friday evening after crews had to make equipment repairs. No official word on when it will reopen.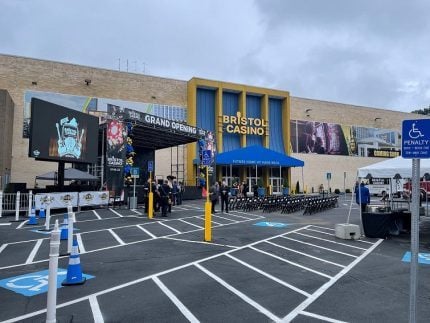 The Bristol, Va. property was evacuated due to the situation. The move is required under Virginia Lottery rules.
We look forward to reopening and welcoming our guests back as soon as possible, and we apologize for the inconvenience," the casino posted on Facebook.
The casino is located near the Virginia–Tennessee state line. Hard Rock International, owned and operated by the Seminole Tribe of Florida, is renovating the former mall into a Hard Rock casino.
Social Media Reports
Posters on social media provided some more details.
We were pulling in the parking lot when we were turned around [and] told we had to leave that they had electrical issues and the lights were out," a poster identified as Dianecurtis Starnes said.
It could be a couple of hours before the casino reopens, Starnes added, based on unofficial statements he heard from the casino company.
Another poster, Chris Turner, revealed, "I heard from a host they not gonna open back tonight. Maybe … [Saturday] or even Sunday. But I've heard a lot of diff stories but that's the latest news I've gotten."
Still another poster, Zachary Wheeler, revealed a host told him, "they can't reopen until VA lottery gives them the green light."
Other posters said they were inconvenienced by the sudden closing.
Player Lost Money
What about the money I had to leave in the machine cause they had shut down the machines and was told I had to leave along with everybody else," Karen Montgomery said. "Even left my card in the machine. I hope they make it right or I will be done going back."
Also, Jaydon MacLeod said he was at a restaurant at the casino complex on Friday evening.
"Went to eat at Mr. Lucky's. When I went back in they was carding everyone. Had to scan our license. 10 mins later was asked to leave. While hanging around to see what was happening, 4 cleaning crew with mop buckets went into casino. Only 3 came out. Minutes later was told to evacuate the property."
Poster Mollie Tipton had a simple request on Friday night for Bristol Casino:
"Could you all give us an idea when you might reopen so people aren't just wondering if it will be soon or not until tomorrow? Giving ZERO idea when the issue will be fixed is extremely unprofessional and costing you all A LOT of business."