Atlantic City Threatened by New York
Posted on: April 21, 2023, 08:47h. 
Last updated on: April 21, 2023, 05:19h.
Hard Rock International Chairman Jim Allen made concerning, yet unsurprising, comments this week at the East Coast Gaming Congress in Atlantic City. His remarks were about the impending arrival of full-scale casinos in downstate New York.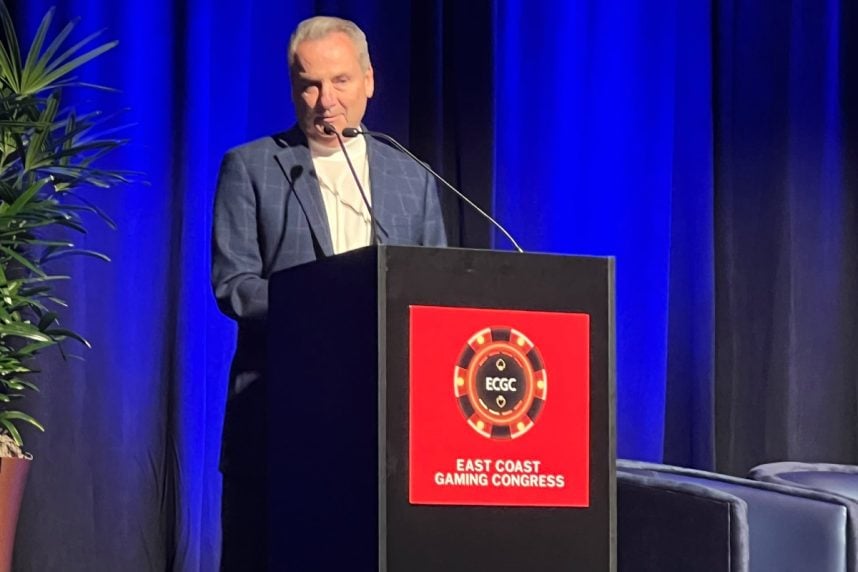 Allen's Hard Rock Hotel & Casino on the Atlantic City Boardwalk is one of the more profitable casinos in the local market. But when three full-scale casinos open in downstate New York in the coming years, Allen believes the less-profitable casinos in Atlantic City will be threatened.
Atlantic City receives 30% of its revenue from upstate New Jersey and downstate New York, and there's no doubt it is going to have an impact on this particular market," Allen said Thursday during the final day of the ECGC.
The New Jersey Division of Gaming Enforcement (DGE) last week revealed that profits for the nine casinos declined almost 5% last year despite robust revenue of more than $3.3 billion. The casinos blamed high overhead primarily caused by inflation for the reduced bottom lines.
Competition Coming
Three Atlantic City casinos reported a 2022 gross operating profit upwards of $100 million: Borgata ($140.2M), Hard Rock ($128M), and Tropicana ($109.7M). Ocean also fared well last year, with a profit of $96.2 million. The $89.4M bottom line for Harrah's was also strong.
Three other casinos, Caesars ($60.4M0, Golden Nugget ($30.6M), and Resorts ($21M), reported slimmer profit margins. Bally's, which continues to undergo a substantial and costly renovation, reported a net loss of $1.9 million.
Allen believes the lower-tier casinos in Atlantic City are most at risk of being forced to close when New York's downstate casinos open. New York is readying to review applications for three downstate casino licenses.
Two of the concessions are said to be earmarked for Resorts World New York City and Empire City Casino at Yonkers Raceway. Those properties are currently racinos that only offer video lottery machines that look and operate nearly identically to slots and electronic table games.
You have three or four casinos that are very strong [in Atlantic City] and then I think there's a question as to what happens in that next level down," Allen explained. "Inevitably from a business standpoint, there is vulnerability. I don't think that changes unless there are enhancements to the perception of Atlantic City."
Atlantic City officials and developers continue to try and change the city's perception. Last month, Mayor Marty Small (D) held a ceremony at the town's long-shuttered former airport to highlight a proposed $2.7 billion proposed project to turn Bader Field into a mixed-use development.
Small and the Atlantic City Council want to move forward with the project. It was pitched by a group of local businesses and real estate developers collaborating under an entity called Deem Enterprises. But since New Jersey continues to retain Atlantic City's governance through the state's takeover of the town that began in 2016, only state officials can officially decide the future of Bader Field.
Gov. Phil Murphy's (D) administration and the New Jersey Department of Community Affairs are currently reviewing the Bader Field plan.
New Attractions
Along with Bader Field, major new amenities targeting Atlantic City resort guests are coming or are in the works.
The Showboat, a former casino that today is a nongaming hotel, is nearing the opening of its Island Waterpark. The indoor-outdoor beachfront waterpark covers 103,000 square feet and features over a dozen water rides, a surf simulator, and a lazy river.
The Showboat has been committed to diversifying Atlantic City away from being a gaming-first destination. Along with its forthcoming water park, the Showboat offers the Lucky Snake Arcade, the largest arcade facility on the East Coast.
The arcade replaced the former casino and is now equipped with an indoor go-kart track and more than 600 arcade games. A mini-golf course, rollerblading course, and a 40-foot-tall rock climbing wall are also planned.