Portnoy Tweet Propels Penn Stock Higher On Tuesday
Posted on: May 9, 2023, 03:32h. 
Last updated on: May 9, 2023, 03:46h.
Scuffling Penn Entertainment (NASDAQ: PENN) notched a late-session rally Tuesday after Barstool Sports founder David Portnoy took to Twitter to reveal he purchased a significant amount of shares in the regional casino operator on Monday.

In what appears to be a response to an "internet troll," Portnoy said he purchased "2 million" in Penn stock yesterday. He didn't clarify if that's two million shares or $2 million worth of the stock.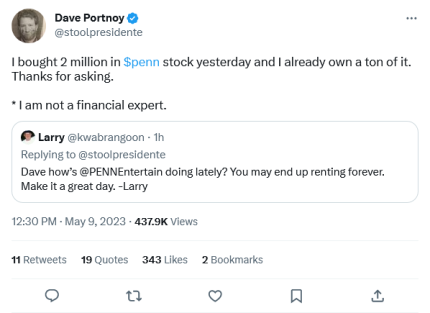 Intraday charts indicate Portnoy's social media post was impactful and created some positive buzz around a stock that slumped 8.9% over the past month and shed 10.44% year-to-date.
Pivotal Timing for Portnoy Announcement on Penn Stock Buy
Portnoy added to his already substantial Penn stake just days after the casino operator forced Barstool Sports to fire poker player Ben "Mintzy" Mintz for using a racial slur during a podcast in which he was reciting lyrics to a rap song. In the wake of that event, which coincided with Penn's tepid first-quarter earnings report, the stock slumped, stoking speculation that the antics of Portnoy and some other Barstool personalities may eventually be too much for Penn to bear.
Recently, there's been chatter among analysts that Portnoy could leave Penn when his two-year contract expires or that the regional casino giant could ultimately look to sell Barstool because media isn't the parent company's core competency.
In February, Penn paid $388 million for the 64% of Barstool Sports it didn't previously own, bringing the total acquisition price for Portnoy's company to $551 million.
Portnoy has an estimated net worth of $120 million, which likely indicates he purchased $2 million worth of Penn stock on Monday, not two million shares. Had it been the latter, that transaction would've carried a price tag of nearly $52 million. Today, the shares closed higher by 1.7% on volume that was more than double the daily average.
Maybe Portnoy Isn't Leaving Penn
In a subsequent tweet, which included a chart highlighting Penn's late Tuesday pop, Portnoy questioned whether people wanted him to say that he's still a believer in the gaming company and that he intends to remain there for some time.
He added that he's "not a stock advisor or financial expert."
Avid followers of Portnoy, of which there are millions on various social media platforms, know that while he's not a registered investment advisor, he did gain some notoriety during the early stages of the coronavirus pandemic for actively trading stocks, including shares of Penn rivals. He even coined the mythical investment firm "Davey Day Trader Global," using the hashtag #DDTG on social media. That remains in his Twitter profile today.